Top Five Reasons to Hang With Hillel!
Voices of UMBC Hillel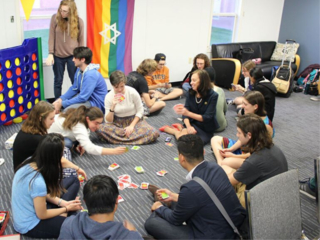 Written by Elizabeth Pastwa (Hillel Student Organization Co-President)
UMBC Hillel has a lot to offer – here are the top five reasons to come hang with Hillel! 
5. Free Food 
Let's be honest, if you're in college then this is one of your top priorities. And between Aliza Silverman, our Hillel Engagement Associate and "hired Jewish mother", there is plenty of free food, both at our free weekly Shabbat dinners and the rest of the week
! The office is always stocked with snacks, and students can make requests.
Beyond these options, there are opportunities to get lunch with 
Hillel staff and leadership, so you can get food and company!
Image Description: A variety of hamantashen set out on a table in Commons, ready to be handed out to passer-by!
4. Variety
UMBC Hillel hosts a variety of different events throughout the semester, and we'd love to work with you to create the events you want to us! Examples include costume Shabbat, game night, and movie with discussion. Let us know what you're interested in and we can work with you to make it happen! Contact Aliza, Rabbi Jeremy, or the student leadership with your ideas.
Image Description: Students in the Interfaith Center Multipurpose Room. Two circles of students are playing card games, and one group of students is playing connect four with a large set.
3. Being There For Each Other
Sure, this sounds generic, but hear me out! Whether it's sitting in the office and sharing TikToks, or venting in the Hillel community WhatsApp about annoyances from your week. you'll find a group of people that take the word "community" seriously. We don't just want Hillel to be a club, we want you to be a part of our family! During your time at UMBC, however short or long, we want to help create the community you want to see. That includes being there to meet you at whatever level you want or need. Whether you just come to Shabbat or you're 
at every event, we'll be happy to see you!
2. The Rabbi
The meme. The myth. The legend. S
pend enough time with Hillel and you'll 
understand why the UMBC Hillel Rabbi, Jeremy Fierstein has
a reputation for his humor and great leadership
. Whether you go to him for 
something serious or something silly, he'll hear you out and is will do
 what he can to help you. Jeremy is a friendly 
face at UMBC, and he (as well as the student leadership) will do what they can to
make sure you feel welcome!
Imagine Description: Rabbi Jeremy, Aliza, and recent alum Ryan standing outside of the University Center.
1. No Judgement
UMBC Hillel is a no-judgement zone, with zero toleration for bigotry. Feel free to 
be yourself and to explore your identity as you explore college and the experiences that come with it! 
We want you to feel welcome, but more than that we want you to be yourself. After all, no one else is 
going to be you!
Looking to get involved in Hillel? We are holding an information session for incoming students and parents on Tuesday, June 30th from 4–5 PM;
sign up today
! Already a student at UMBC? Fill out our
interest form
 and we'll send you more information on getting involved!